PsyPass System for Computerized Psychometric Assessment



The computerized assessment system operates on the Internet or the Intranet using Internet Browsers. It includes numerous tools (tests and questionnaires) which evaluate abilities and personality characteristics relevant to the modern vocational world. For every job, a series of tests and questionnaires can be defined that specifically match the job requirements and can provide the decision maker with exact, focused, reliable and valid information at a level comparable with assessments done in traditional testing companies.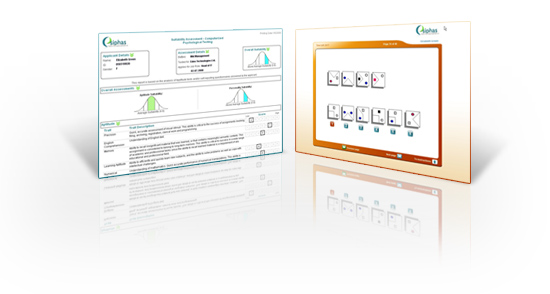 The system increases the efficiency of the selection process and offer major savings in selection costs while allowing total in-house control of the selection process and eliminating the need for external help.

The system is tailored specifically to the needs of the organization.

Assessment reports are available in real-time and allow immediate decision making

PsyPass System produces a list of subjects – specific to each candidate – that serve as the basis for an in depth focused interview with the candidate.

The system is an accessible database for the decision makers in the organization

The system is user friendly and simple to operate – both for the operator and the candidate. The system can be simply and quickly integrated into the organization and does not require special knowledge or experience with computers.
PsyPass System is capable of testing subjects in a number of different languages. The user interface is also available in several languages.





Do you want to know more...