Assyst System for Worker Evaluation



Assyst is a computerized system to manage and perform the entire process of worker evaluation. This process begins with defining the fields of the evaluation, continues with the building of evaluation forms, defining the population to be evaluated, the evaluation procedure and concludes with reports. This whole evaluation is based on a computer "paper-less" process.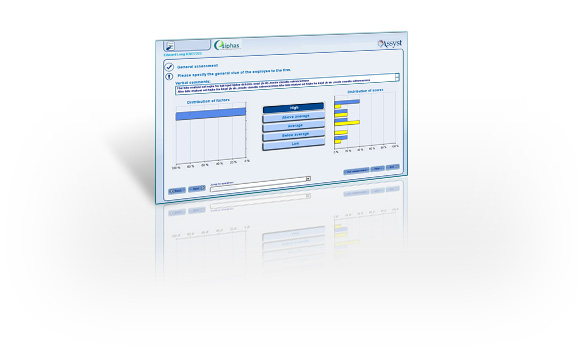 The major characteristics of the system are:

Flexible definitions of the evaluation content, user defined evaluation scales and forms - all free of the need for a computer programmer intervention.

Supports multi-evaluation forms, namely, matching the unique evaluation form to each worker being evaluated, on the relevant content for his job.

Supports multi-evaluators for each worker to be evaluated. Every worker can be evaluated by one or more evaluators.

The evaluation process is done on a computer and the evaluator receives immediate and continuous feedback throughout the evaluation process regarding the quality of his evaluations.

Computer based evaluation shortens the process and provides a major savings of resources.

Those responsible in the organization for the evaluation process receive information in real-time on the progress of evaluators at the different levels in the organization (for example, who has not yet done his evaluations and how many he has left).

The system serves as a wide and comprehensive database of the human resource in the organization. A picture of the quality of man-power is available for the various units inside the organization and/or in various jobs. Workers who have particularly positive or negative evaluations, can be tracked as well as comparisons made between workers. In addition, information is available about the quality of the evaluations by different evaluators.